Salim (Shanghai) Enterprise Group Co., Ltd's ultra-long distance pipe belt conveyor system is located at the western area of Tariab Island, Sura Islands County, North Maluku Province, in the northeastern part of Indonesia. The conveyor system is composed of two pipe belt conveyor towers. PC1 pipe belt conveyor's length is 3641.790m. PC2 pipe belt conveyor's length is 8231.315m.

A. The PC1 pipe belt conveyor has a continuous lowering height of 360.345m, and a total lowering height of 353.809m. The conveyor operating during the power plant generator operationg mode.
B. PC2 pipe belt conveyor's length is 8231.315m.

C. The PC2 pipe belt conveyor uses multiple small turning radii, large angles, and continuous S-shaped horizontal turns in the horizontal layout. Among them, there is a continuous S-shaped horizontal turning angle: 36 degrees + 69.56 degrees + 42.66 degrees, and the minimum turning radius is only 300m and The straight line between horizontal turns is less than 9.5m. The pipe belt machine has 12 horizontal turns, the total turning angle reaches 330°, and has 25 vertical turns.
D. Due to the heavy rainfall, strong ultraviolet rays and strong corrosiveness at the installation site of this project, the two pipe belt conveyors adopt a rain cover structure that covers the walkway throughout the entire length. It effectively protect the idler and belt, bring convenient to inspection.

Technical Data Charts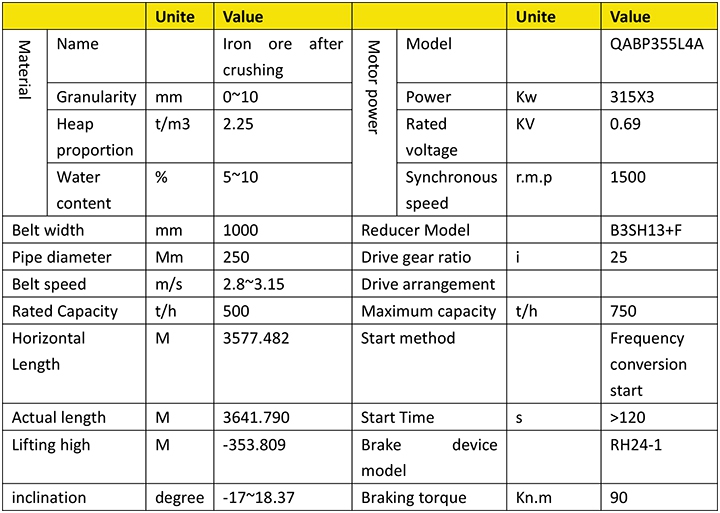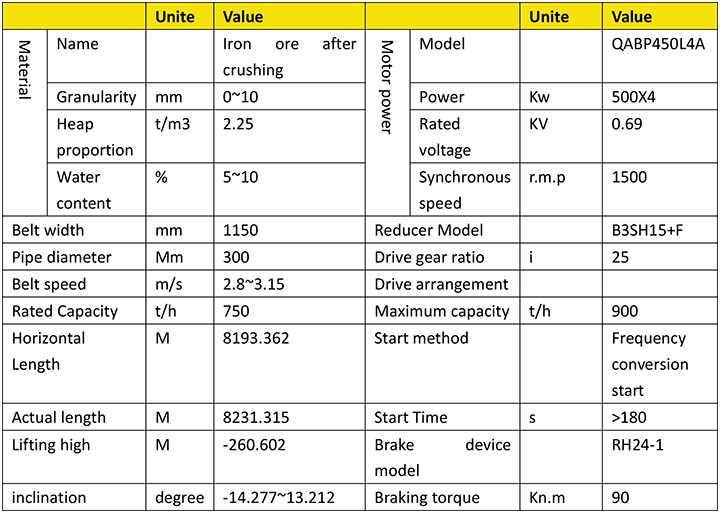 Live picture